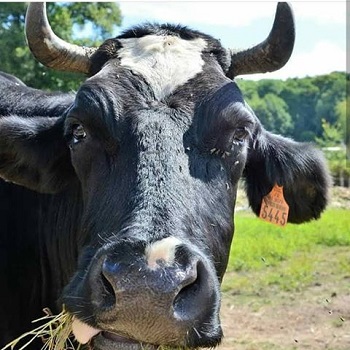 Princess is a black and white Frisian born into the dairy industry. She is now ten years old. Having been bred every year and repeatedly had her calves taken away from her, she came to us as a 'downed' cow unable to walk. Completely collapsed in the lorry she wasn't able to stand for about 4 hours and required emergency treatment from the vet. After hobbling off the lorry she was again unable to get to her feet for about three days. Prior to coming to our sanctuary, Princess had been starved for about six months and as a result she has anxiety issues around food. Her favourite pastimes now are basking in the sun and eating.
Please consider making a donation to help with the continued care of Princess, or contact us for more information about sponsorship and friendship packs.
You have our deepest gratitude for choosing to support our sanctuary and helping us to care for our precious residents. Thank you for being one of 'the best people'!