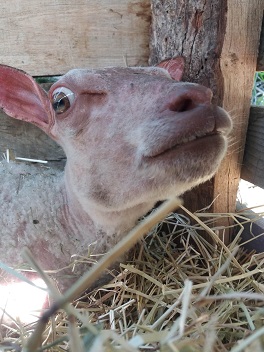 Bramble came to us via a phone call from our vet who was going to euthanise her. She wasn't wanted because she was polyarthritic. It's a very common condition in overbred sheep – it's called 'joint ill'. When we went to see her, she was in a filthy shed, separated from the other lambs. They were all kept in the dark, away from their mums in a space that was probably three foot by six foot.
We nursed Bramble for many months, and eventually her infected wounds healed and she was able to go out into the garden with her mum, Saffron. She will always have difficulty walking, due to her arthritis, but she is a happy soul with many friends.
Please consider making a donation to help with the continued care of Bramble, or contact us for more information about sponsorship and friendship packs.
You have our deepest gratitude for choosing to support our sanctuary and helping us to care for our precious residents. Thank you for being one of 'the best people'!