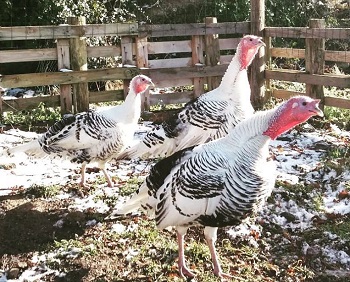 Alf, Rudolf, Joy and Meg were rescued from a Christmas Turkey Sale in December 2017. Amazingly, turkeys can fly very high. Soon after their arrival at our sanctuary we were very disconcerted when we couldn't find Rudolf for some time. We eventually located him high in a tree! Intelligent and loyal creatures, the favourite pastime of this little foursome is trying to get into the house!
Please consider making a donation to help with the continued care of Alf and his crew, or contact us for more information about sponsorship and friendship packs.
You have our deepest gratitude for choosing to support our sanctuary and helping us to care for our precious residents. Thank you for being one of 'the best people'!