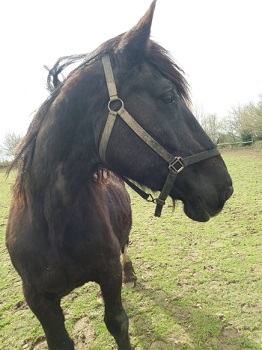 Beautiful Leya was rescued from imminent slaughter. She was a brood mare who was bred every year and had her babies taken. She had never had any foot care, never had any training, so she is not good in hand. She was very stroppy, headstrong and arrived pregnant. We did not realise because we were told she was going to the abattoir. (They do end up being slaughtered while pregnant.) So, her previous owner, a chap who loved horses, obviously did not love them enough.
Having been bred for 15 years Leya came to spend her retirement years with us. Her favourite pastime is eating and her second favourite pastime is being a little mischievous! Willow, Leya's daughter, was born at the sanctuary and is just a bundle of joy. All she has ever know is gentle, loving care and the nurturing reassurance of her mother. Willow's favourite pastime is playing and getting in the way of all the other animals, she is completely care-free!
Please consider a donation to help with the continued care of Leya, or contact us to discuss sponsorship or friendship packs.
You have our deepest gratitude for choosing to support our sanctuary and helping us to care for our precious residents. Thank you for being one of 'the best people'!