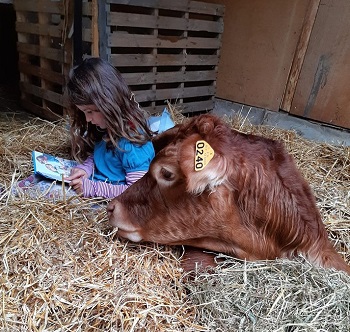 This little lady needed our help urgently. She has suffered an unknown traumatic event which has caused paralysis in a rear leg. The farmer, who called us direct, wanted her to get better and have a life where she was cared for. He did not have the time to give to her and it was unclear if she would be able to stand and, therefore, may not be a profitable enterprise. He did not want to put her to her death, and was very pleased to relinquish her to our Sanctuary.
We collected Luna, at that time unnamed, and settled her in our barn. A fundraiser on Facebook helped us to choose a name, and raise funds to buy lifting equipment to try to get her on her feet. She has a long road ahead. We have no idea on her prognosis at this stage, we have no idea if she will be able to weight bear, but we do know she is now comfortable and her skin is healing. She is eating and drinking well. She is kind and loving and accepts our administrations of care with a head rub and a sniff to our faces.
You can read more about Luna's story by following our regular weekly blog posts. Any donations towards her care would be most welcome, or Ii you would like to sponsor this little lady monthly, please get in touch, her needs will be considerable.
Please consider making a donation to help with the continued care of Luna, or contact us for more information about sponsorship and friendship packs.
You have our deepest gratitude for choosing to support our sanctuary and helping us to care for our precious residents. Thank you for being one of 'the best people'!