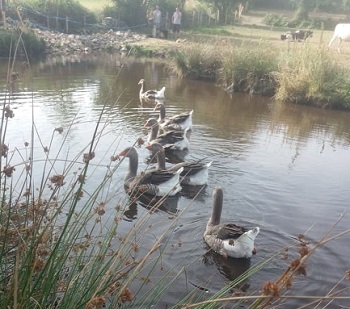 Contrary to common misconceptions, most geese are friendly creatures. They are highly social birds and if they are raised around other animals, they usually get along well with them. Not only will they form lifelong bonds with their feathered partners, but they can be equally dedicated to human carers. They will naturally bond with the person who feeds them as a chick and remain dedicated to that person as their surrogate "parent" throughout their lives. Geese can live up to twenty years if well cared for. The geese living here at the sanctuary were saved from slaughter.
Please consider making a donation to help with the continued care of the Gobby Geese, or contact us for more information about sponsorship and friendship packs.
You have our deepest gratitude for choosing to support our sanctuary and helping us to care for our precious residents. Thank you for being one of 'the best people'!