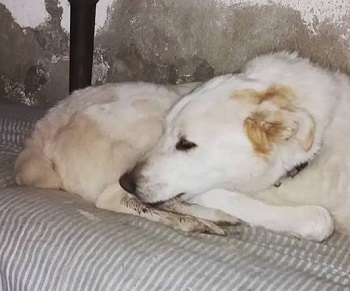 Miranda first met Raiph when she was volunteering in a Romanian dog shelter. As she walked in, through the stench and faeces, she saw a little person staring at her through the main compound. That was Raiph. He had had his tail cut off with a pair of scissors. He was severely underweight and he was in a compound of around 55 other dogs; they didn't all have kennels. They were knee deep at times in faeces. From the morning to the evening, while she was there cleaning, Raiph would follow Miranda around, wherever she was. He would just watch. He would be the first and last face every day.
So, Raiph chose Miranda. He came back to France after going into a clinic to improve his health ready for the journey. He came back with Hagrid and Sorren who was adopted on. Raiph is incredibly loving, incredibly gentle. Everyone that meets him wants to adopt him because he just is a love monkey. He will do anything for attention. But we haven't fostered him because he is so attached, and we feel that although other homes may be as loving he has been through enough in his life.
lease consider making a donation to help with the continued care of Raiph, or contact us for more information about sponsorship and friendship packs.
You have our deepest gratitude for choosing to support our sanctuary and helping us to care for our precious residents. Thank you for being one of 'the best people'!