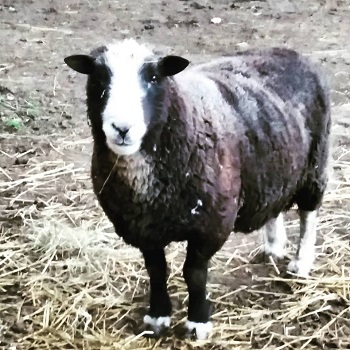 George is the father of Anikin. He came to us from a back garden of someone who did not want him anymore. He is an entire male. He is quite elderly and he likes to butt, so they fight between the two of them so that George shows that he is dad again. He is very demonstrative and quite loving.
He is the escape artist, rather than his son. So, he will take advantage if someone does not shut the gate properly and he can get his head through. He does not mind human interaction and he will do anything for a biscuit. He is a bit like a weird uncle who you would meet at a disco, that you know you have to invite, but sometimes you wish you didn't, because, at the most inopportune time, George will decide to try to mount his son. This is usually at the beginning of a guided tour. So, while we are introducing George and Anikin, George will be doing something nefarious with his son.  But he is a nice person, though he will not let his son supersede him in the reign of power.
Please consider making a donation to help with the continued care of George, or contact us for more information about sponsorship and friendship packs.
You have our deepest gratitude for choosing to support our sanctuary and helping us to care for our precious residents. Thank you for being one of 'the best people'!