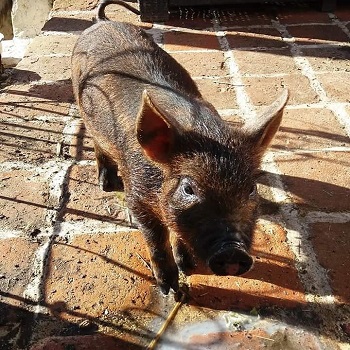 Little Bean is a cross-breed stripey Hungarian Mangalitsa; she is the sister of Teddy and Bess. The farmer did not want Little Bean and her litter mates, as they were cross-bred, so he did not want him near his other stock for fear that they would contaminate the blood line. The farmer's children were going to keep the piglets as pets but then changed their mind.
Little Bean came to us from an organic farm with four siblings, two of which have now been placed in other loving forever homes. She arrived at the Big V sanctuary with untreated abscesses on one of her rear legs and could hardly walk. She was the runt of the litter. We didn't really think that Little Bean would make it. We thought she would be under our hospice care, but with a lot of care, love and attention she has pulled through. After receiving treatment, she is now fully recovered and walking normally.
Please consider making a donation to help with the continued care of Little Bean, or contact us for more information about sponsorship and friendship packs.
You have our deepest gratitude for choosing to support our sanctuary and helping us to care for our precious residents. Thank you for being one of 'the best people'!