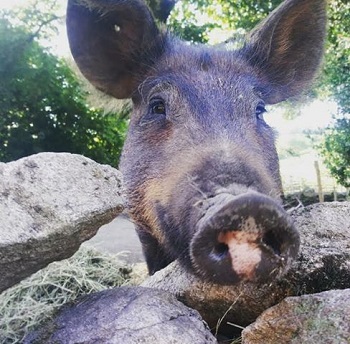 Teddy is a cross mangalitsa-duroc pig. Teddy is the brother of Little Bean and Bess. He came to us from an organic farm, free-range, so had never been treated for anything at all so when he first arrived he was hideously covered in lice, to the point that touching him they would run up your arm. He was slightly underweight, but very loving.
Right from the start, Teddy has been a teddy bear, hence his name. He has grown into a magnificent little man of around 90 kilos. He will be the first person to come if you sit in the garden, he will come and lie on you. He is incredibly loving, and very protective of the other animals, not necessarily the pigs, so when there is a fight in the garden, he will stand between the birds that are fighting and play referee.
Teddy's favourite snack is peaches and pears, although he will do a little run around and yelp for a biscuit. We have never taught him to do it, but he gets very excited for a biscuit. He is the most gentle. It must be said that boars are always maligned as being aggressive and dangerous and we find that actually the boars are more easily handled and more gentle than the sows.
Please consider making a donation to help with the continued care of Teddy, or contact us for more information about sponsorship and friendship packs.
You have our deepest gratitude for choosing to support our sanctuary and helping us to care for our precious residents. Thank you for being one of 'the best people'!