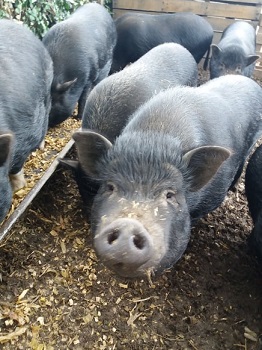 Rose is Belle and Sebastian's daughter and also Phoebe, Charles and the rest of the friendly family herd's sister. She is incredibly loving and inquisitive. Very gentle, she will be the first to come to see anyone who walks near the enclosure. She is the first to come to see you when you are cleaning there, with the broom or rake, she will come and sniff and wait for a cuddle. Rose is a member of our family of Vietnamese pigs – Belle and Sebastian's family. We leave them to interact as a normal family, with the least amount of contact and intervention; we just guard them from afar.
Please consider making a donation to help with the continued care of Rose, or contact us for more information about sponsorship and friendship packs.
You have our deepest gratitude for choosing to support our sanctuary and helping us to care for our precious residents. Thank you for being one of 'the best people'!