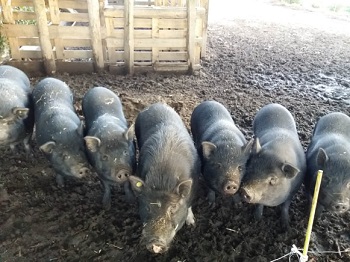 The Friendly Family is made up of Belle and Sebastian (mum and dad), Charles, Tom, Florence, Ingrid and Rose from one litter and Phoebe from a previous litter. They are all incredibly loving and loyal to each other. It is a joy to be in their enclosure. They won't necessarily come up for attention but they are inquisitive and very peaceful to be around. Mum and Dad are fantastic parents; they look after their children incredibly well and there is a strong sense of family unity.
Please consider making a donation to help with the continued care of the Friendly Family, or contact us for more information about sponsorship and friendship packs.
You have our deepest gratitude for choosing to support our sanctuary and helping us to care for our precious residents. Thank you for being one of 'the best people'!